Peace for Food
The Peace for Food Initiative aims to bring international attention and global stakeholders together to highlight the current situation in global food markets. The initiative enables businesses to proactively contribute to the OECD work on agriculture and will highlight the business commitment to reaching global objectives, including agriculture sustainability and innovation.

The Business at OECD Food & Agriculture Committee is working with farm groups and with agribusinesses that operate upstream and downstream in the food supply chain to identify actions that the private sector can take on its own, in partnership with governments and other stakeholders, and in response to specific policy changes.
The current state of global affairs could be defined as a multi-layered crisis that is creating a shock to food demand and supply. Climate change, the pandemic and, conflicts have significantly overloaded food systems and created one of the worst food crises in history. It has become urgent to move from discussion to action if global food systems are to feed the world, sustain the environment, and enable livelihoods across the food supply chain. Russia's invasion of Ukraine has already severely disrupted global food markets, causing negative consequences for global grain supplies in the short term. Disrupting natural gas and fertilizer markets, as well as the production and spread of agricultural technology, will also have negative impacts on producers in the medium- to long-term.
Peace for Food has three main goals:
Inform the OECD and policymakers on the current challenges businesses face in wake of recent food price hikes, particularly in developing countries, what challenges it poses for businesses in developed countries, and showcase how businesses tackle these challenges;
Discuss policy actions to calm agricultural markets in the short term, and identify policy recommendations for making our food systems more resilient and sustainable in the long term, boosting agriculture productivity, innovation, and how it can contribute to evidence-based policy-making;
Explore

the role of international collaboration, in particular through OECD and G20 initiatives can play in stabilizing global food markets in times of price inflation and building momentum for the OECD Agriculture Ministerial.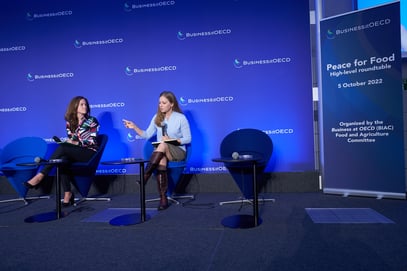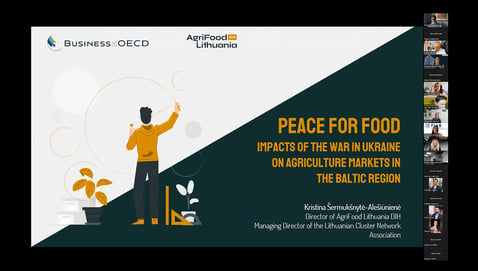 In addition to participation in numerous public discussions over the past year, two stakeholder dialogues have been organized in recent months.

The first dialogue took place in July 2022 and addressed the immediate priority to bring stability to agriculture and food markets and to help support displaced, low-income, and other vulnerable populations. There was a particular focus on food price inflation.


The second dialogue took place in October as a High-Level Roundtable and addressed medium-term priorities for enabling sustainable productivity growth and transforming global food systems. This solution-focused dialogue explored actions that could be taken by the private and public sectors.

Read more about the high-level roundtable

As for next steps for the Peace for Food campaign, together with AgriFood Lithuania, we are organizing the largest AgriFood Forum in the Baltic States.

The issue is particularly relevant in Baltic States as the agri-food sector accounts for around 7% GDP in each Baltics State economy, Ukraine is an important import partner for food sector companies, and the countrys overall inflation rate is one of the highest in the EU. The stagnation of agrifood companies would have a serious negative impact on the growth of other sectors and the unemployment rate (especially in regions). Thus, this Forum will aim to invite national and international stakeholders for a discussion and encourage the preparation of an action plan (including joint commitments of the most important actors in the sector), which would ensure the availability of affordable quality food for everyone without compromising the obligations for sustainability. Such commitments will be based on healthier, fairer, more sustainable, and resilient food systems.